How To Spot Fake Tadano Crane Parts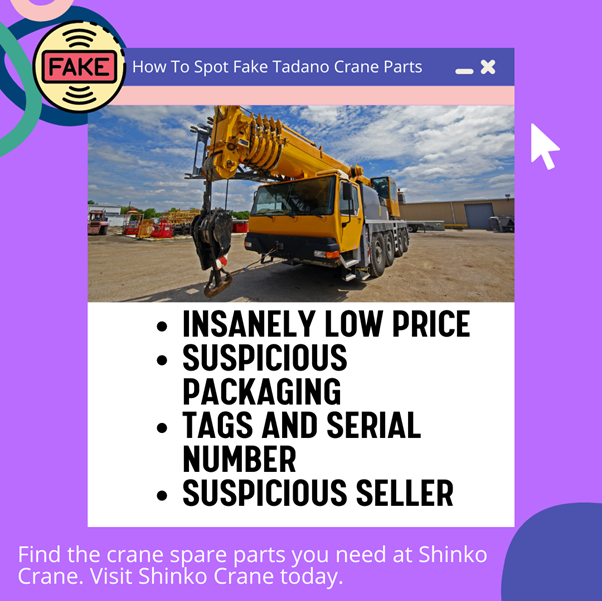 Just like in the automotive parts market, some genuine Tadano crane parts are hard to find. This rarity becomes a leeway for some to circulate counterfeit crane spare parts in the market. You might fall for these fake parts if you are not careful enough.
Fake crane spares are a threat to people's safety, a risk to your crane, and might void a warranty.
Here are the signs of knockoff Tadano crane parts:
1. Insanely low price
It is vital to research the average price of the authentic Tadano crane parts you need on Tadano's website and its authorised retailers and resellers. If you ever find brand new and allegedly genuine Tadano crane parts with a price insanely lower than the average price, then there is a high chance that the crane spares are fake.
2. Suspicious packaging
If you are familiar with the Tadano brand, you should know their packaging well; the colour, font, packaging structure, and the quality and standard seals they bear.
Fake crane spare parts have packaging that is either too pale or vibrant in colour, has a bigger or different font, and sometimes has incorrect spellings. Cheap knockoffs can't copy quality and authenticity seals, so keep an eye on them.
3. Tags and serial number
Besides authenticity seals, genuine Tadano crane parts have a serial number and QR code, which you can search or scan to determine if the product is from a legitimate manufacturer. If the packaging does not have this identification or the QR code does not lead you to the legitimate website, there is a high chance that it is fake.
4. Suspicious seller
You don't have to worry about buying crane spares at the manufacturer or authorised retailers because they ensure all products are genuine. Be extra careful if you buy from an individual or unauthorised seller. Do your background check first.
The key is to find an authorised and trusted seller for genuine Tadano crane parts.
Find the crane spare parts you need at Shinko Crane. Visit Shinko Crane today.