Techniques Followed in Paintless Dent Repair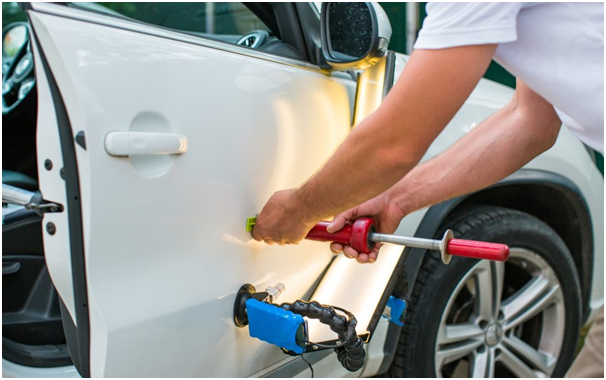 Any dent or ding on the car surface creates an unsightly appearance. It is hard for any car owner to tolerate this defacing damage to their car. But when it is only a dent, many owners tend to ignore these eyesores, since not everyone us prepared for a  costly repair job all of a sudden.
It is for such situations, that the auto body repair shops came with a more feasible and affordable solution, which they call it paintless dent repair. As the name suggests, it is a brisk dent repairing process that is done only to the affected area without involving th4 entire car body. It also eliminates the process of painting, because of which it is an ideal solution to make your car look good again if suddenly a dent appears on its surface, suggesting the Rathdrum paintless dent removal team of workers.
Advantages of Paintless Dent Repair
Paintless Dent Repair is considered as the most affordable and quickest possible way to repair the dents on your car body. The focus in this kind of repair is mainly on the rectifying the minor car body surface damages that are not peeled off or scratched out.  This is a dent repair process that is done in bits and pieces, ditching the wholesome painting approach.
The other motif of Paintless Dent Repair is to protect the car from further damages that even an unattended small-sized dents can create.
Mostly people go for a paintless dent repair when they want that ugly dent to disappear as quickly as possible.
Since the Paintless Dent Repair doesn't involve any traditional painting procedures, it requires lesser time, resources, and money.
Damages Paintless Dent Repair Can Resolve
Car body surface damages like small dings and dents are the only kinds that can be resolved with a paintless dent repair. If the size of the dent caused by hail or any other heavy objects is the same as that of a cricket ball, they can also be addressed by a paintless dent repair, provided, the inside metal of the car body isn't exposed.
But when the dents get larger in size, they are also indicative of some mechanical damage. In such cases, the mechanics would suggest you get a thorough investigation done for your car, and only if nothing is found that damaging, the paintless dent repair can be exercised.
When a Paintless Dent Repair is Recommended
The process of Paintless Dent Repair is recommended by the experts only in the following situations:
The size of the dent on the car surface is really small and the inner metal is not yet exposed.
There is no internal mechanical damage where it needs other repair work to be done.
It is only a dent and not a scratch.
A Last Word of Advice
According to mechanics at the department of paintless dent removal Rathdrum is a high precision procedure that requires special equipment and trained to handle of an experienced mechanic. Hence no one should try a paintless dent repair through DIY techniques at home, as it can further damage the car body which will require more costly repair.