4 Reasons Why People Seek Long Term Car Rental In Singapore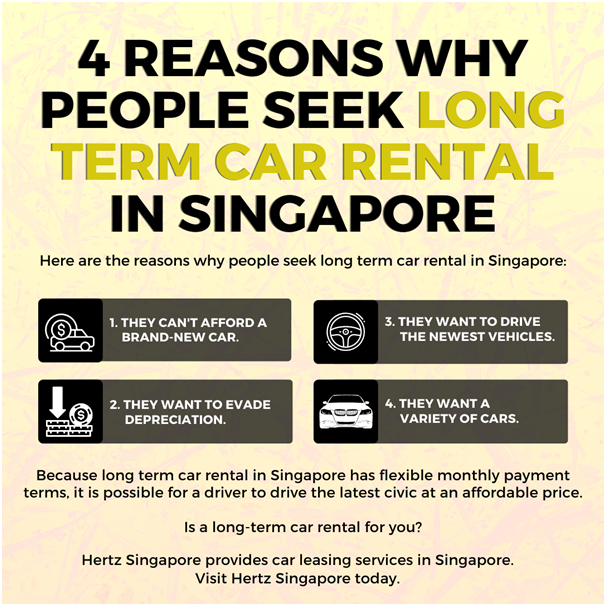 Car leasing has been around in Singapore for many years. There are two types of car leases in the country: short-term and long-term; the main difference between the two is the length of time the leaser can use the vehicle.
Long term car rental in Singapore refers to a car lease contract that lasts up to five years, while a short-term car lease can last up to two years. Some people confuse car rentals with the lease.
Here are the reasons why people seek long term car rental in Singapore:
1. They can't afford a brand-new car.
The upfront cost of a brand-new car can be expensive for many. Long term car leasing in Singapore can be the most affordable option for them.
Firstly, the number of vehicles for lease depends on the car model. The latest models are more expensive than a couple of year-old ones. Despite this, they are still cheaper than buying your own car.
Secondly, car leases have flexible terms. Tenants pay for the monthly lease of the car until the contract ends. Depending on the agreement, either the car dealer or the car tenant shoulders the maintenance cost.
2. They want to evade depreciation.
One of the disadvantages of owning a vehicle is the depreciation. After buying the car, its price drops drastically in the first three years. Therefore when you decide to sell your vehicle to buy another one, the cost would be almost half the original price.
People with long term car rental contracts in Singapore do not suffer from depreciation mainly because they don't own the car. If they want a car upgrade, they can simply wait for the end of the contract and file another one for a new car, which can possibly be at the same rate as the old vehicle.
3. They want to drive the newest vehicles.
It is not easy to upgrade a vehicle if you are buying one. But it is possible if you enter car leasing in Singapore. You can change your car or upgrade your vehicle every three years without breaking the bank by renewing your lease contract.
4. They want a variety of cars.
Budget restricts the option of the driver for car variety. For example, the eleventh generation of Honda Civic sedan costs around S$122,999, but your budget can only afford the lower generation of Honda Civic or other car brands within the budget; therefore, you will settle for older or different models.
Because long term car rental in Singapore has flexible monthly payment terms, it is possible for a driver to drive the latest civic at an affordable price.
Is a long-term car rental for you?
Hertz Singapore provides car leasing services in Singapore. Visit Hertz Singapore today.